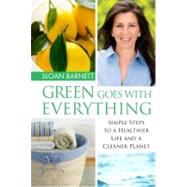 Sloan Barnett, the Green Editor for KNTV here in San Francisco, has just released a new book. It is packed with common sense and sass, product picks and practical tips,
Green Goes with Everything; Simple Steps to a Healthier Life and a Cleaner Planet
is a must-read for anyone who wants to be green AND clean, and for everyone who wants to take simple steps to safeguard the health of their family and
our wonderful blue planet
.

According to Barnett, human beings are saturating their bodies, their children's bodies and their homes with noxious waste, pathogens and carcinogens. This book is divided into seven clean-it-up chapters full of solid information and helpful tips aimed at greening different areas of your life, such as how to best filter household water. Barnett's well-written environmental call-to-arms is passionate and authoritative; her findings correlating childhood illnesses with ordinary-and highly toxic-cleaning supplies is alarming.
This book is a must read for anyone who cares about the health of their family and our wonderful planet!